CYBER1 provides leading cyber security solutions in Africa, Middle East, India and a small part of the European region. CYBER1 was founded in 2016, however the oldest company DRS dates back to 1997 and the group has been built through strategic acquisitions and organic growth.
The company focuses on three key business areas:
Consulting and Advisory Services
Managed Services
Vendor Distribution across multiple regions offering products from suppliers like McAfee, Palo Alto, CyberArk, Microsoft, Checkpoint, Okta and Rapid7 in four geographical regions: Africa, Middle East, Europe and India. Last year the company reported about 27 million euros in revenue.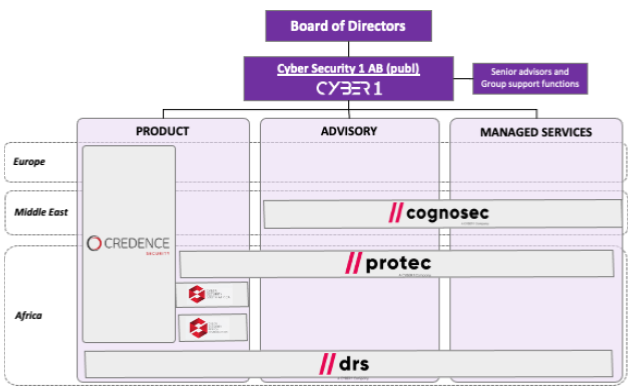 CYBER1 recently went through a company reconstruction. Over a period of one year the company went through an extensive cost cutting process, appointed new management and board of directors. CYBER1 also renegotiated a 75% debt write-off with creditors which gained legal effect on 29 th of June, payable in 12 months. Hence reducing its debt by 75%. The final piece of turnaround was to finance the composition agreement, with approximately 35 million SEK.
For this, the company emitted a subscription period this July that was attractively priced for existing and new investors and they reached their goal. This was the last piece of the puzzle of its turnaround to fund the external debt of the composition agreement and essentially become debt free in a business ready to move forward and to grow.
CYBER1 recently announced two new key company acquisitions. Leaving the company reconstruction behind CYBER1 is ready to retake its growth agenda by concluding these two strategic acquisitions. The acquisitions of both Cyber Security South Africa (CSSA) and Cyber Security Africa Distribution (CSAD) broadens the company's entire distribution portfolio, and strengthens the market position on the African continent. With presence in South Africa, Mauritius, Kenya, Nigeria, Ghana, Morocco and Egypt.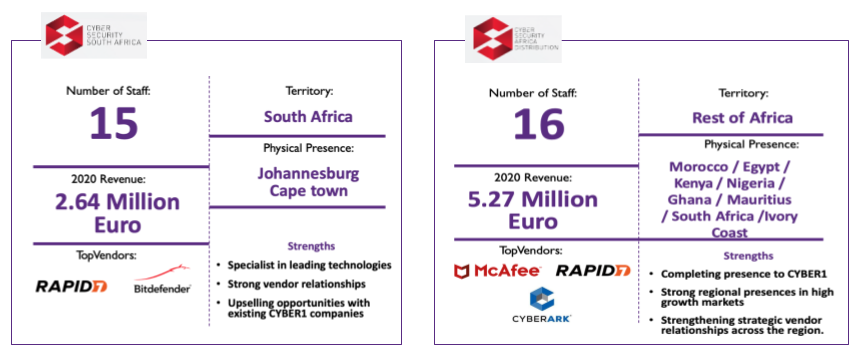 Additionally, there are many opportunities in the Cyber Security industry at the moment due to a lack of skills, which would strengthen CYBER1's service portfolio and increase financial performance.
CYBER1 welcomes existing and new investors to join the company and take part in this growth journey.